Hear Kym talk about
Get Organized!
and Schedule Your Home



Can a schedule help?
Can I become more organized?

As we look at God's world, we see a rhythm to life: from the seasons of each year, to the sun during the day and the stars and moon at night. Predictable, but not boring. Can our lives be the same? Peaceful, organized, and – dare I say – scheduled – without boring me to tears? Do schedules really work?
When Kym became the mother of one, then two, then three – and on up to baby number eight, she discovered some secrets to success. Applying her business training to her role as a mother, Kym cites, "If you fail to plan, you plan to fail!"
A business success she translated to motherhood is "Think once and write it down!" so she created chore charts, kitchen duty charts, how to clean your room charts – to take the questions and arguing out of life.
In this standing-room-only session, Kym shows you how to have success with a practical schedule that fits you, your lifestyle and your children.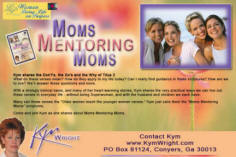 To read more about Kym Wright, the teacher, visit her website: www.kymwright.com/about.htm

Read more from Kym and others
in The Mother's Heart magazine