Coming on CD


Hear Kym talk about
The Planner Habit
Teaching it to our Kids




As homeschooling parents, we have chosen the responsibility of teaching our children – in academics, spiritual life, social behaviors, physical activities, and practical living skills. We also have the privilege and accountability to teach them how to make it all work.
From chore charts when they are younger, to "Honey-Do" lists when they are married, how can we teach them to use their minutes well to accomplish the have-to's, the want-to's, and everything in between?
Teaching our children the planner habit is one way to success, especially if we are in the habit of using them ourselves. Join Kym as she shares the 6 K's to success and encourages practical ways to help our children succeed.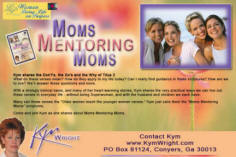 To read more about Kym Wright, the teacher, visit her website: www.kymwright.com/about.htm