Hear Kym talk about


Learning Styles



Why are They So Important?
What are learning styles and why are they so important? Scientific studies show that people take in or perceive information differently and process information differently. The way we view the world is how we perceive information. Some learners need to "see" things concretely (through our five senses) to understand information. Other learners can understand information abstractly (visually understand what cannot be seen).
Determining learning styles aids parents in choosing curriculum, teaching methods and extracurricular activities. By understanding the different learning styles yourself, you can then help your children understand them too, which will help them relate to and communicate better with the various people in their life.
What kind of explanations help this child learn new ideas, concepts, or skills? How does the child read and spell? How does the child write? How does the child remember things and how do they respond to periods of inactivity? How does this child solve problems?
We'll cover questions like these and more, to help you determine your child's learning style, and probably discover your own. Kym shares practical ways to identify you and your children's learning styles and to use that knowledge to help your homeschool thrive.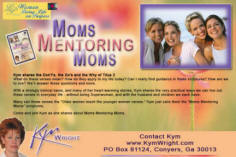 To read more about Kym Wright, the teacher, visit her website: www.kymwright.com/about.htm

Read more from Kym and others
in The Mother's Heart magazine