In this session, Kym helps moms – the typical social directors of the family – learn how to plan enjoyable activities to include the whole family – making wonderful memories for our children, our spouse and ourselves. Learn how to locate the many one-day and half-day extravaganzas we can experience – and discover ways to fit them into the schedule. Kym will then guide you through all of the details involved in making it happen: from planning and preparing, to what to take along with you, and finishing with a bang!
From family Saturday outings to the zoo, to white water rafting as a group, Kym and her family make it a point to create family fun. There are free events, and those with minimal costs, among those which require some penny-pinching to save for and cover the cost of the excursion. Whichever we choose, making time to create fun times with our families pays great dividends in our relationships and family unity.
Let's learn to make life as fun as we can – and to make time to make memories for those we care about most.

To read more about Kym Wright, the teacher, visit her website: www.kymwright.com/about.htm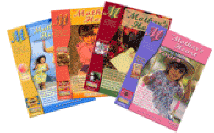 Read more from
Kym and others in
The Mother's Heart magazine