About Homeschooling
A Humorous Look at the
Top Ten Myths of Homeschooling



With statistics, quotes from famous people, homeschool humor and the "Top Ten Homeschool Myths," Kym shares about homeschooling to state homeschool conventions, civic organizations, churches, volunteer groups, and others.
Kymís professional Power Point presentation helps you visualize the largeness of homeschooling, the wonderful opportunities afforded our children through this educational option, and shows graphs on homeschool statistics worldwide, nationally, and in your state.
Stories shared in her warm style let you see the phenomenal success of homeschooling as she arms you with fact-filled, well-reasoned responses to well-meaning critics.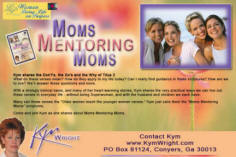 To read more about Kym Wright, the teacher, visit her website: www.kymwright.com/about.htm

Read more from Kym and others
in The Mother's Heart magazine