Get your weekly dose of free encouragement from Kym Wright!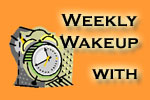 To subscribe, click here and send.
To unsubscribe, click here and send.
---
From Kym:
One of my favorite verses about motherhood is when Deborah, a judge of Israel, and a woman of might in battle, sings a song to the Lord,
"Until I, Deborah, arose, until I arose, a mother in Israel."
Judges 5:7 b, c
That's my prayer for us, that we arise to become the moms God has intended for us to be. It won't look the same in each family, but it will be based on a similar foundation of love, respect, time, training, discipline, discipling, fun, encouragement and all of those other aspects we admire and need.
Join us?
From one mother to another,
Kym Wright

---